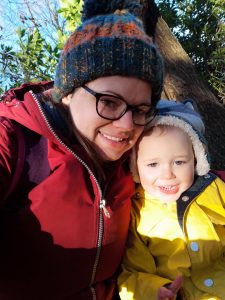 Its about time I updated the 'About Me' page as a lot has happened since I started up Sarah Gee Fine Art in November 2014. As a lot of you already know I am a self taught wildlife pencil artist. I started off concentrating on British Wildlife but steadily making my way through the animal kingdom with my range of pencil drawn wildlife characters. It all started with the ever popular Frank the Mouse dated 2012 and my most recent drawings done in coloured pencil- just for a change.
I work from my new home in Durham, where I live with my husband, Anthony, our gorgeous boy Oliver and our handful cocker spaniel Bonny.A lot of my wildlife inspiration comes from the countryside around our home in the North East of England. Once an original drawing is finished it can then be transformed into a whole host of gift ware including fine art prints, mugs & coasters, tote bags, cushions and greetings cards. The ranges will continue to grow and develop over time with an abundance of wild flora and fauna to take inspiration from.
Sarah Gee Fine Art is now a proud supporter of The David Sheldrick Wildlife Trust meaning sales will now help to protect and conserve wildlife in Kenya and help protect endangered species worldwide. The printed wildlife greetings cards are not only 100% recycled but also contributing to a Carbon Capture Scheme so the more purchased the more native woodland is planted in and around the UK.